The number of cannabis strains available today is staggering. Hundreds of options, all with silly names, can make walking into a dispensary overwhelming! Northern Lights, which was a groundbreaking strain 30 years ago, is now the parent of many other strains. Today, we basically have an infinite number of strains at our fingertips due to the perpetual crossbreeding that's taken place over the past few decades. Since you want to take full advantage of the wealth of flavors, colors and effects that today's cannabis industry has to offer, we've picked a few strains you should explore first in 2020.
FOCUSED
Fittingly, Mimosa is the perfect "wake and bake" strain with the mellow, clear-headed and productive high it induces. Expect to be able to zone in on a project and experience more focus. Schoolwork, creative projects, cleaning, reorganization and yoga can be greatly enhanced with the Mimosa strain. Try doing those things after five actual mimosas. Not as highly recommended.
Mimosa is a cross between Clementine, a fruity sativa, and Purple Punch, a zen-inducing indica. As you can imagine, the resulting aroma and taste of this strain is (*kisses fingertips like a chef*) deep, pungent and juicy.
EUPHORIC
This strain will actually do the opposite of cripple the hippie (that's you), but the name is still so catchy! Hippie Crippler is a sativa-leaning hybrid that hails from AK-47 and Blue Satellite, so it has many of the same buzzing psychoactive effects. Because of the mellow euphoria and feeling of joy it produces, Hippie Crippler is your strain for hiking and other outdoor activities. It even smells of warm pine, further inspiring you to get out and deeply connect with nature.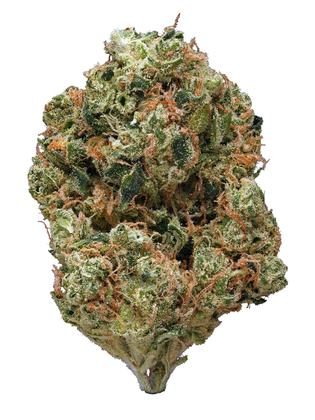 INSPIRED
I love a well-rounded indica that still gives that cerebral high. Obama Kush is just that—a relaxing strain with strong physical and mental effects. It's the child of OG Kush and Afghani, a true indica. Obama Kush has dark purple flowers that emit a calming and sweet herbal scent. Along with easing bodily pain, this thought-provoking strain encourages contemplation and reflection. The combination of these effects will leave you totally invigorated and ready to take on the world… after a quick power nap. Try this inspiring strain to manifest change for yourself in 2020!
ENERGETIC
Finally, you can't go wrong with a cookie strain. Tropicana Cookies derives from Girl Scout Cookies and sativa strain Tangie. These sweet, citrusy buds give an uplifted and energetic high that combats depression and aids in productivity. Tropicana Cookies may inspire you to clean the house (all day) and actually enjoy it (a lot). I would also recommend this strain to anyone with social anxiety as it can boost confidence, openness, and possibly the giggles.
Check with your state's dispensaries to see if they offer these unique strains. A dry herb vaporizer is a great way to really taste the terpenes present in each strain in an easy-to-use device. Interested in the effects that different strains have on the body and mind? Check out more of our top strains for boosting creativity.