Each and every year, our team sets out to dream up a dope new collection of tray designs. We only produce the collection for one year, making trays from previous years collector's items! Our 2021 collection was vast, with 10 different designs making up the collection. We still have plenty of these designs left in inventory, so if you see one you like, snag it now because it won't be around forever. 

In true Ooze fashion, our designs are bright, bold, and in your face. We dig deep into our imagination, and harness that creativity that tends to only make an appearance once we've sparked up our favorite plant. Extremely intricate and detailed, you can lose track of time staring at each piece; think of it like getting lost in a tapestry, but on your coffee table. There's truly something for everyone in our 2021 collection!

We've taken a bit of a different approach for our 2022 design. Instead of coming up with a variety of different designs for just rolling trays, we decided on one super dope design to then use for a variety of different products and accessories! We plan to take this route from now on, calling each year's design release our "Theme of the Year". Our 2022 Theme of the Year is the Ooze Brain Storm design.
This wacky, colorful design is what our designers imagined the inside of a stoner's brain would look like right after a smoke session. There are tons of funny characters and icons floating around, you'll probably notice something new every time you stare at it!

The Ooze brand is known for being bold and colorful, so we're excited to plaster the Brain Storm design on all sorts of different accessories. Over the past few years, we have created sticker packs from our rolling tray designs, and this year is no different. Our 2022 stickers are all characters and images found within the larger design. We also have new lanyards, t-shirts, sweatshirts, posters, and reusable bags!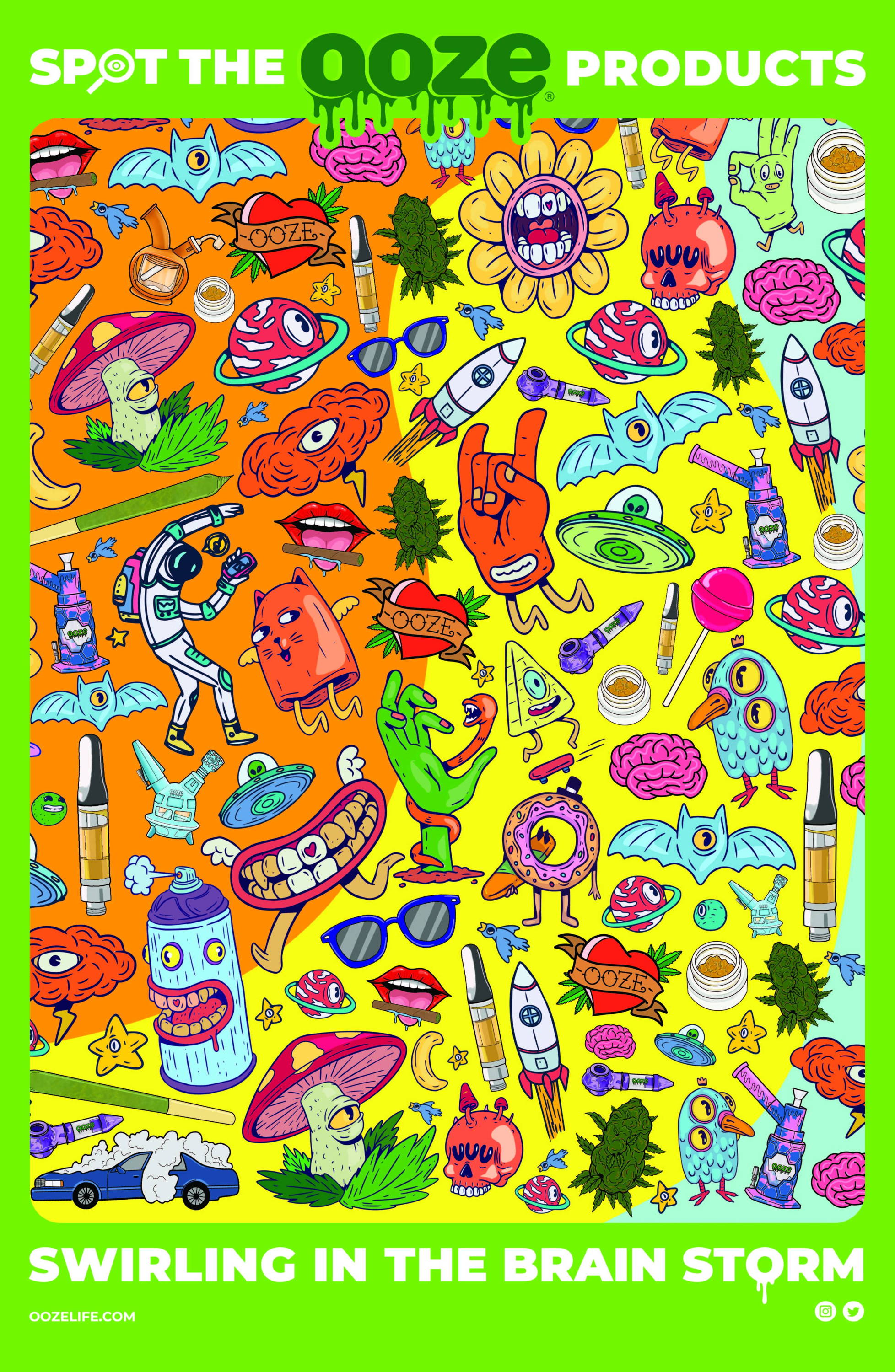 ---
No matter which design speaks to you, you can be sure that you're ordering the best rolling tray on the market! Our metal rolling trays have deep, curved edges to keep the contents altogether and not spilled on the table or carpet. They're super lightweight, and the smaller sizes are great for tossing in your backpack to roll up on the go. 
Our glass trays aren't just any glass trays! These are shatter-resistant glass, meaning they can be dropped, bumped, kicked around or just tossed on the floor, and they'll be A-okay. The glass gives them a sophisticated look and feel, but you'll know they were built to withstand even your clumsiest stoner friends. No matter what your smoking style is, Ooze has a tray that best suits you! 
Since all of our designs are limited editions, they will only gain value! A tray you buy today in 2022 could be worth a pretty penny just a few years later. Collectibles are fun to hunt down and collect on their own, but these are collectible items that are fully functional and help get you stoned, too!