Pronto Glass Mouthpiece Replacement
Sale price
$7.00
Regular price
Unit price
per
Sale
Sold out
The Ooze Pronto mouthpiece is a long, straight borosilicate glass tube that reaches down inside the device almost to the coil tip. This can be easily removed to clean, and it may need to be replaced over time. This is the glass tube mouthpiece replacement for the Ooze Pronto.  read more

Easy Returns

Free USA Shipping on Orders $80+

Secure Checkout

Earn Ooze Tokins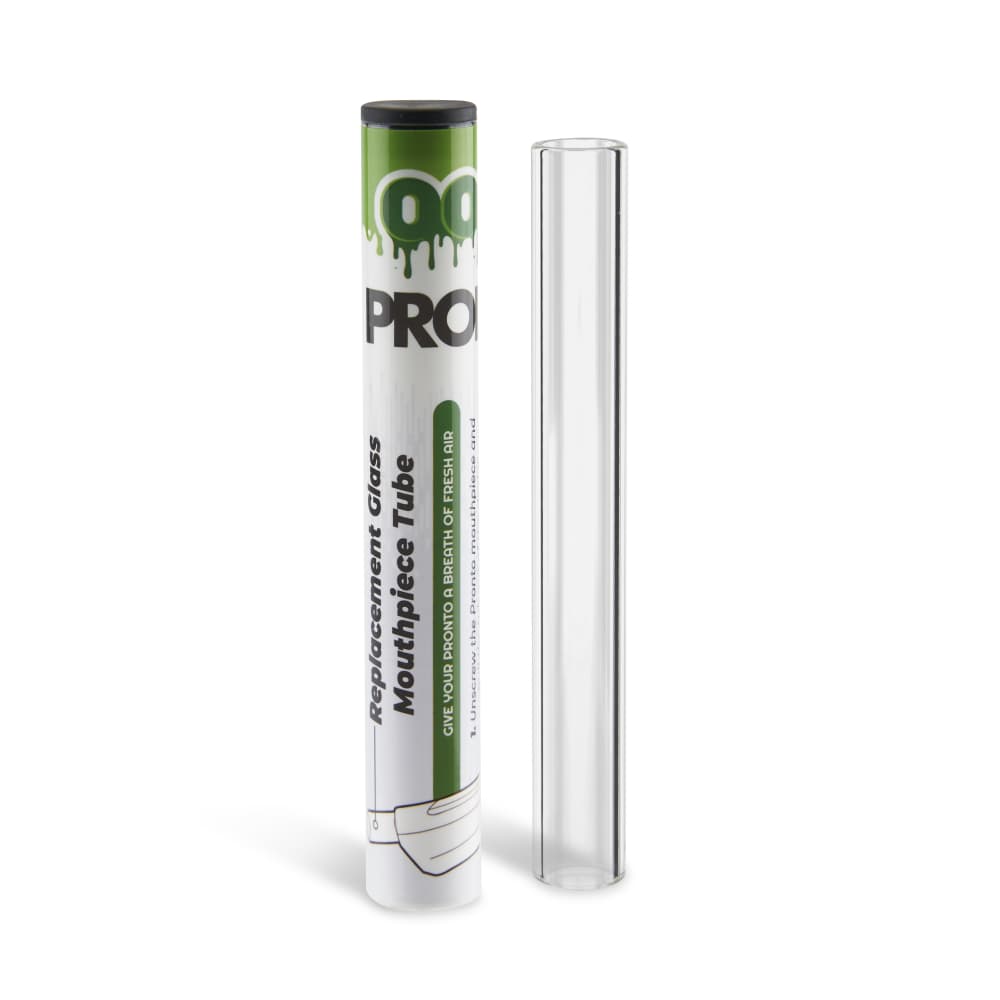 Description
The Pronto arrives fully assembled, with the mouthpiece tube already inserted in the base. This is a straight glass piece that sticks out the top of the device. There is a window down the side of the device that shows the smoke collecting inside the chamber during an inhale. This window also makes it easy to see how dirty the glass tube is getting. Once it's splattered with resin and reclaim, just pull it out of the base to clean.
Use alcohol or Ooze Resolution Res Gel cleaner to deep clean the glass tube. A pipe cleaner or brush can help scrub off any stuck-on residue inside the tube. For daily cleaning, wipe the mouthpiece part off with an Ooze Resolution Res Wipe. This borosilicate glass tube replacement comes in a small plastic tube package.
Features
PRONTO GLASS | The Ooze Pronto electronic concentrate device includes a glass mouthpiece that is an extended glass tube. The chamber has a window that shows the tube collect smoke, and also shows how dirty the tube is so it's obvious when it needs to be cleaned.
REPLACEMENT | This is a single glass tube that is intended to be a replacement piece. The borosilicate glass is sturdy and durable.
HOW TO REPLACE | Swapping out the old mouthpiece for this new replacement. Just grab the top of the glass tube that sticks out of the base and pull. It should slide out easily, then slide the replacement back into the chamber.
HOW TO CLEAN | Regular maintenance will keep the Pronto tasting clean for longer. Wipe down the mouthpiece after each session with an Ooze Resolution Res Wipe to remove any build up. For deeper cleaning, pull the tube out and soak in alcohol or Res Gel cleaner. Use a pipe cleaner to scrub inside, and rinse with warm water.

*USB Chargers must be used with Wall Plugs that are designed for USB Ports. Gaming devices, computers, and other electronics are not covered under warranty.