Smart USB Charger for 510 Thread Vape Batteries
Sale price
$6.00
Regular price
Unit price
per
Sale
Sold out
The Ooze Smart USB Charger is compatible with all 510 thread vape pen batteries and screws directly onto the top. It features a safety mechanism that prevents overheating. read more

Easy Returns

Free USA Shipping on Orders $80+

Secure Checkout

Earn Ooze Tokins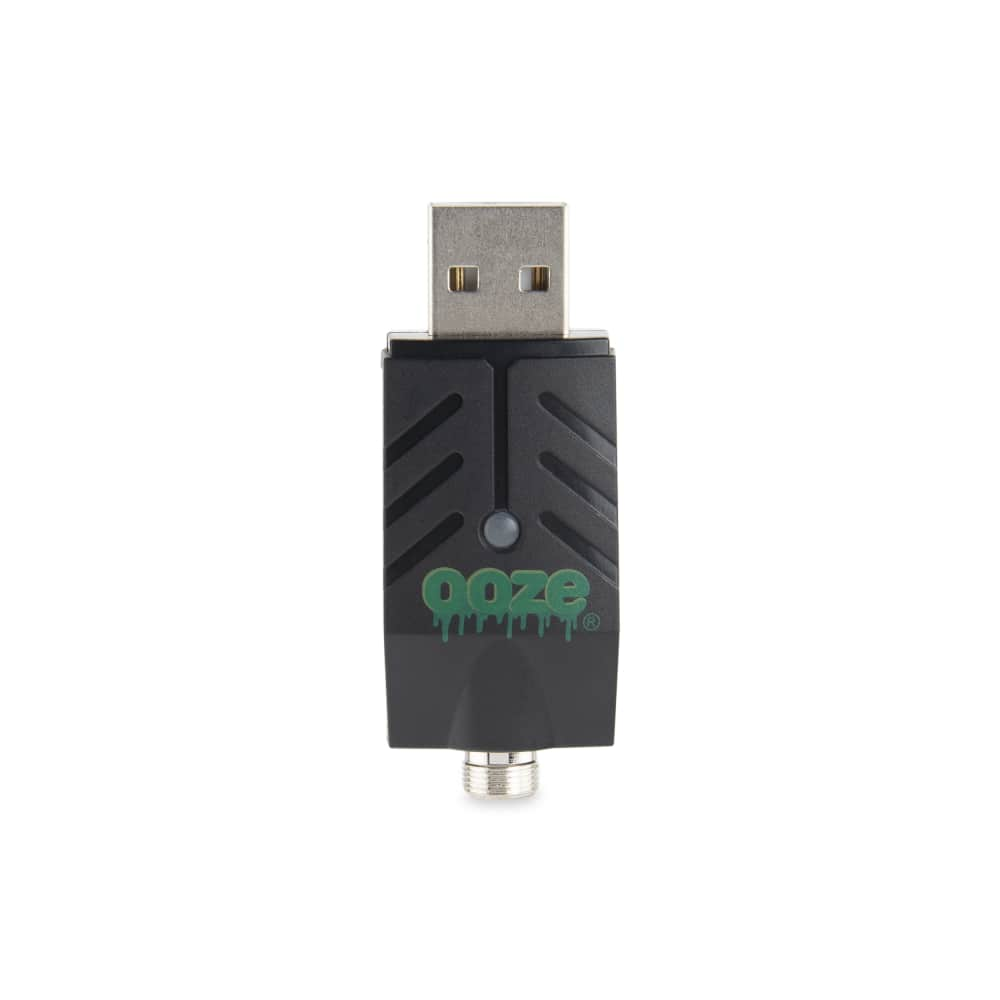 Description
The Ooze Smart USB Charger MUST be used with all Ooze vaporizer batteries or the device's warranty will be voided. This charger protects the vape device by stopping the flow of energy from the outlet to the battery as soon as the device reaches a full charge. This eliminates the risk of the device overheating, and preserves battery cells which greatly extends the lifespan of the device. The charger has a small light on the front that will light up red while it is charging the vape and the battery light will be lit. Once the battery is done charging, the charger light turns green and the battery light shuts off. The charger plugs into a wall outlet adapter, and we strongly recommend only charging via a wall outlet. Do not charge your vape with your computer, gaming system, or any power source other than a wall outlet.
Features
510 THREAD | The Ooze Smart USB Charger screws right onto the top of a stick-style vape pen battery. It is compatible with all 510 thread vape batteries and USB outlet adapters.
OVERCHARGE PROTECTION | The Smart USB Charger is "smart" thanks to a built-in safety mechanism that cuts off the power flow from the outlet into the battery as soon as the device is fully charged. This makes sure the device doesn't overheat while on the charger, and will keep the device working properly with a good battery life.
POCKET SIZE | This charger is small and compact, so you can take it with you anywhere! It's small enough to fit in your pocket comfortably so you'll never be without your favorite Ooze pen for too long if it dies while you're out and about.
WALL ADAPTER | The Smart USB charger has a USB port on the opposite side of the 510 thread screw, so it can be used with a wall outlet that has a USB port or any wall adapter like an iPhone cube. Do not plug the USB into your laptop, gaming system, or any power source that is not a wall.
OOZE WARRANTY | Because this charger protects your vape battery, all Ooze pens MUST be charged with the Smart Charger or the warranty will immediately be voided. Use of a non-Ooze charger with an Ooze pen violates the warranty policy.

*USB Chargers must be used with Wall Plugs that are designed for USB Ports. Gaming devices, computers, and other electronics are not covered under warranty.