Spooky season is in full effect and with Halloween right around the corner, it's time to really start planning your festivities. Trick-or-treaters will be emerging after a year without costumes and you can safely gather all your folks for a rowdy party once again. Whether you're having a Halloween bash or just partying solo, here are some Ooze-approved activities to celebrate the spookiest day of the year!
Make it Crafty
Jack-o-lanterns are fun and all, but what if they could also get you high? Get crafty this Halloween and make a pumpkin bong! Just cut off the top, gut it (save those seeds to bake later), and cut two holes on either side of the pumpkin for the mouthpiece and downstem/bowl insert. You can inhale straight from the hole you've cut, or take the silicone stem and bowl out of your favorite Ooze piece. Just pop them into the holes and take a pumpkin hit!
Make it Efficient
Okay, I know we don't usually go for efficiency when it comes to Halloween parties, but nothing is better than multi-tasking when getting lit. Pack your hybrid pieces with bud and wax so you (and everyone else) have options. If you really want to get crazy with it, whip out the Toxic Barrel mug pipe so you can drink, smoke and dab all at the same time.
Make it Festive
Nothing puts you in the holiday spirit like decorating your space with ghosts and gourds. Make a day of shopping for decorations to give your trick-or-treaters this year the best scares. Or, get crafty with it and create your own decorations! Either way, it's one of the best ways to inspire your whole neighborhood and encourage them to get out and collect some free candy. While you're porch-sittin' with your candy bowl, keep the new Slim Clear Pen on hand. This way you can get lit without offending any parents with skunky aromas around the kids!
Make it Chill
Transform yourself into a fog machine and hotbox your living room! Grab your favorite strain and freshly cleaned piece and start making your cannabis clouds. For added effect, turn on some Christmas lights or candles to enhance the smoke. Talk about a bewitching night in!
Make it Tasty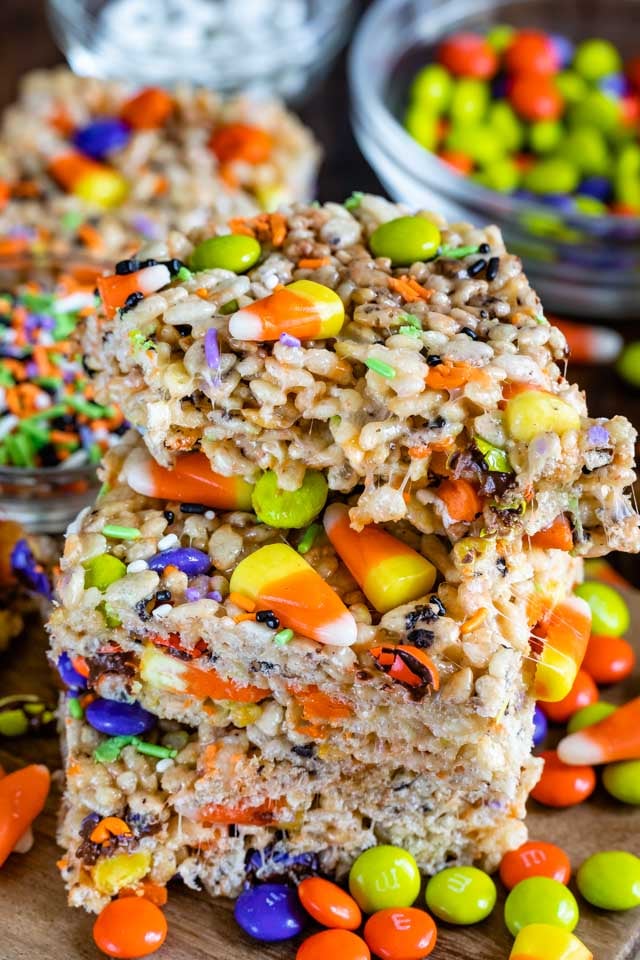 Show up with spooky Halloween edibles and you'll be the most popular kid at the party. As long as you have cannabis butter, you can spike any recipe that includes butter. You can infuse regular butter with cannabis in your kitchen by decarbing it, or you can invest in a butter maker that properly infuses the cannabis. Once you have your cannabutter, swap it for regular butter in the recipe, and voila! One of our favorite Halloween treats to spike are decorated Rice Krispie treats, but you can make cannabis truffles, cookies, cupcakes—whatever your heart desires.
Make it Playful
For lots of laughs, gather all your friends and host a Murder Mystery Party! There are tons of different Murder Mystery game kits online, which include toy weapons, character booklets, nametags and more. For a fun twist, use the Clobb water pipe as one of the murder weapons since it looks like it could actually clobber someone over the head. In reality, the Clobb will only help facilitate more light-hearted (and light-headed) fun once it's packed up with your favorite strain.
Make sure you send out the Facebook invite with a heads-up that this won't be your typical beer pong house party, but to be prepared for a dramatic and hilarious night of mystery. 
Make it Sweet
Create Boo-Grams with smoking accessories or your homemade Halloween edibles and send them off with a sweet note. You can even "boo" your neighbors by putting together a Halloween gift basket and secretly leaving it at their doorstep. To take it to the next level, add a little nug of weed to each. Your friends and (cool) neighbors will be delighted that you took the term "Boo-Gram" literally!
Make it Freaky
Whip up some Halloween-themed edibles and host a scary movie marathon with roommates or a few friends. After one cannabutter cookie, Insidious and The Blair Witch Project are sure to be even more chilling. You may want to lock the doors before getting comfy to avoid any paranoid distractions!
Plan your spooky festivities, get all your friends together and pack your favorite Ooze piece for a magical night.
Happy Halloweed!