Halloween party season is upon us! Since you're already probably thinking about what costume you'll put together, why not start planning your own get together?  The best contribution to Halloween festivities is the sweet treats, but what's better than sugar AND cannabis combined? Halloween edibles are sure delight the angels and demons alike, so put on some spooky tunes and try your hand at concocting some psychedelic goodies this year! 
How to Infuse Halloween Treats with Cannabis 
The easiest way to put a THC twist on your Halloween snacks is to incorporate a cannabis-infused butter or oil. However, you can even add in a premade THC tincture instead if you're making a drink, frozen snack or cocktail (also perfect if you're hosting your own spooky party). Once you have cannabis-infused butter, just pick a tasty treat that includes oil or butter and swap it out for the cannabutter. It really is that simple!  
You can make cannabis butter from scratch just with ground weed, butter/oil, water and a cheesecloth or strainer, or you can invest in a cannabis butter-maker that does all the work for you.  
To make cannabutter from scratch, it takes a bit longer. After actually baking your ground nugs in the oven (you might want to open the windows), cook them on the stovetop with water and butter or oil, whichever you want to infuse. This mixture has to simmer for four hours, so don't try to make it too last minute—or right before your in-laws are supposed to stop by. Then, strain the mixture into a separate container and let it cool before using it in your Halloween edibles.  
Tantalizing THC Truffles 
Bite-sized truffles are the perfect edible because they make it easy for your guests or fellow partygoers to gauge the effect one treat will have on them. Not feeling it after an hour? Pop another truffle!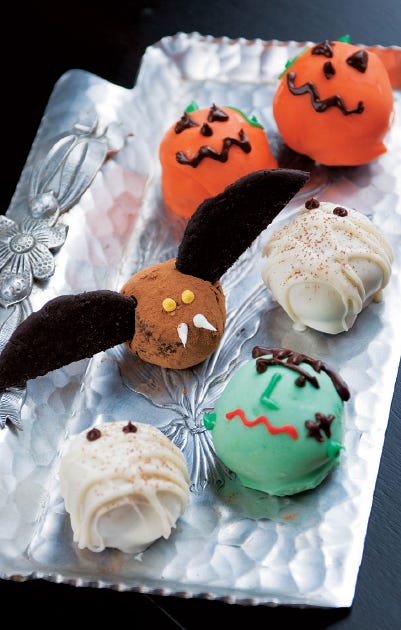 To make your own infused Halloween candy truffles, you will need:  
¾ cup of heavy cream 

 

10 ounces of semisweet chocolate, chopped

 

4 tablespoons of cannabis-infused butter, softened 

 

Candy melts (whatever colors you like!), cocoa powder and chocolate chips for decoration 

 
Directions 
For the truffles…  
In a medium saucepan, bring cream to a boil on medium. 

Remove from heat and add chocolate and butter. 

Cover and let stand for 5 minutes.  

Uncover and stir until smooth. 

Transfer to a medium bowl and refrigerate until firm, about 3 hours. 

Shape truffle mixture into 1-inch balls using a small ice cream scoop or spoon. Place truffles on parchment-lined baking sheet and freeze to harden. 
To decorate…  
Line a baking sheet with parchment. In separate microwave-safe bowls for each color, melt the candy melts and chocolate at 50% power in 30-second intervals until melted and smooth. 

Transfer each to a resealable bag with the corner snipped off. 

Get creative making mummies, pumpkins, bats or ghosts!
Read the entire recipe on womansday.com.  
Festive Halloween Rice Krispie Treats 
These colorful Rice Krispie treats are sure to bring out nostalgia for childhood Halloween parties. And, the infused ingredients inside will help facilitate new memories. Can you think of a better snack to pair with a tasty dab?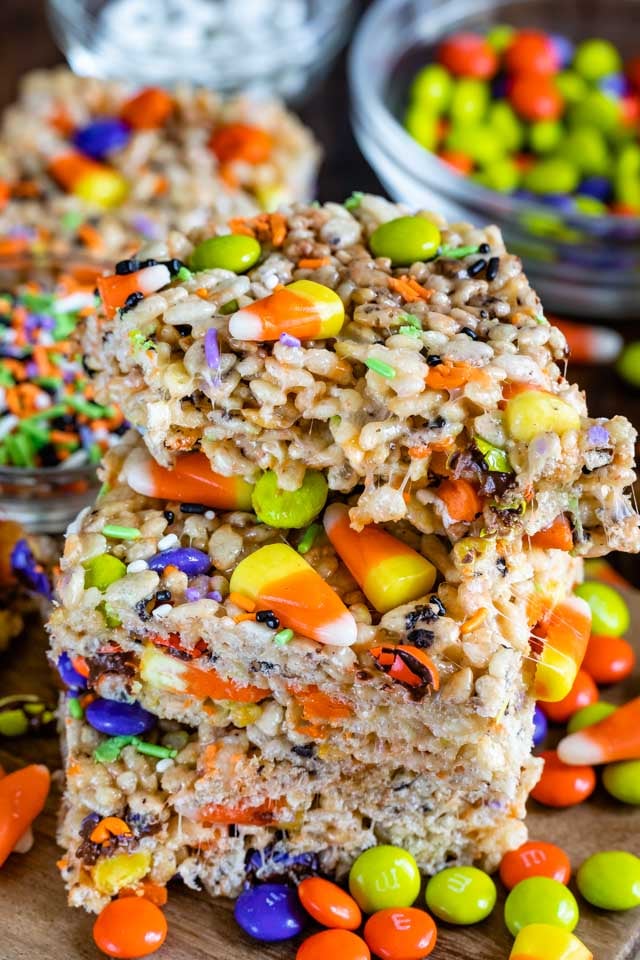 For these uplifting treats, you will need:  
8 tablespoons of cannabis-infused butter 

 

15 ounces of marshmallows (mini or regular size) 

 

2 teaspoons of vanilla extract 

 

9 cups of Rice Krispies cereal 

 

Halloween M&Ms, sprinkles and candy corn to mix in (along with whatever else you want to add in!) 

 
Directions
Line a 9x13-inch baking pan with foil and spray with cooking spray. Set aside. 

Melt the infused butter and marshmallows in a medium saucepan over medium-low heat. 3. Once the marshmallows are melted, remove from heat and stir in the vanilla, candy and sprinkles. 

Pour the marshmallow-cereal mixture into the prepared baking dish. Press to flatten. 

Cool completely before cutting into squares. 
Read the entire recipe on crazyforcrust.com.  
If you thought Halloween candy was a crowd-pleaser, wait until you show up with Halloween edibles and a fresh new piece! Any recipe is super easy to spike once you have your THC-infused butter, so pick your favorite and make this Halloween a little more lit.