Twist Hot Knife with LED Spotlight - Cosmic Chrome
Sale price
$28.00
Regular price
Unit price
per
Sale
Sold out
The Twist Hot Knife Kit is a combination of our favorite vape battery, the Twist Slim Pen 2.0, and the Hot Knife electric dab tool attachment. This 510 attachment now features an LED spotlight at the base of the ceramic tip to make it easy to dab in the dark!  read more

Easy Returns

Free USA Shipping on Orders $80+

Secure Checkout

Earn Ooze Tokins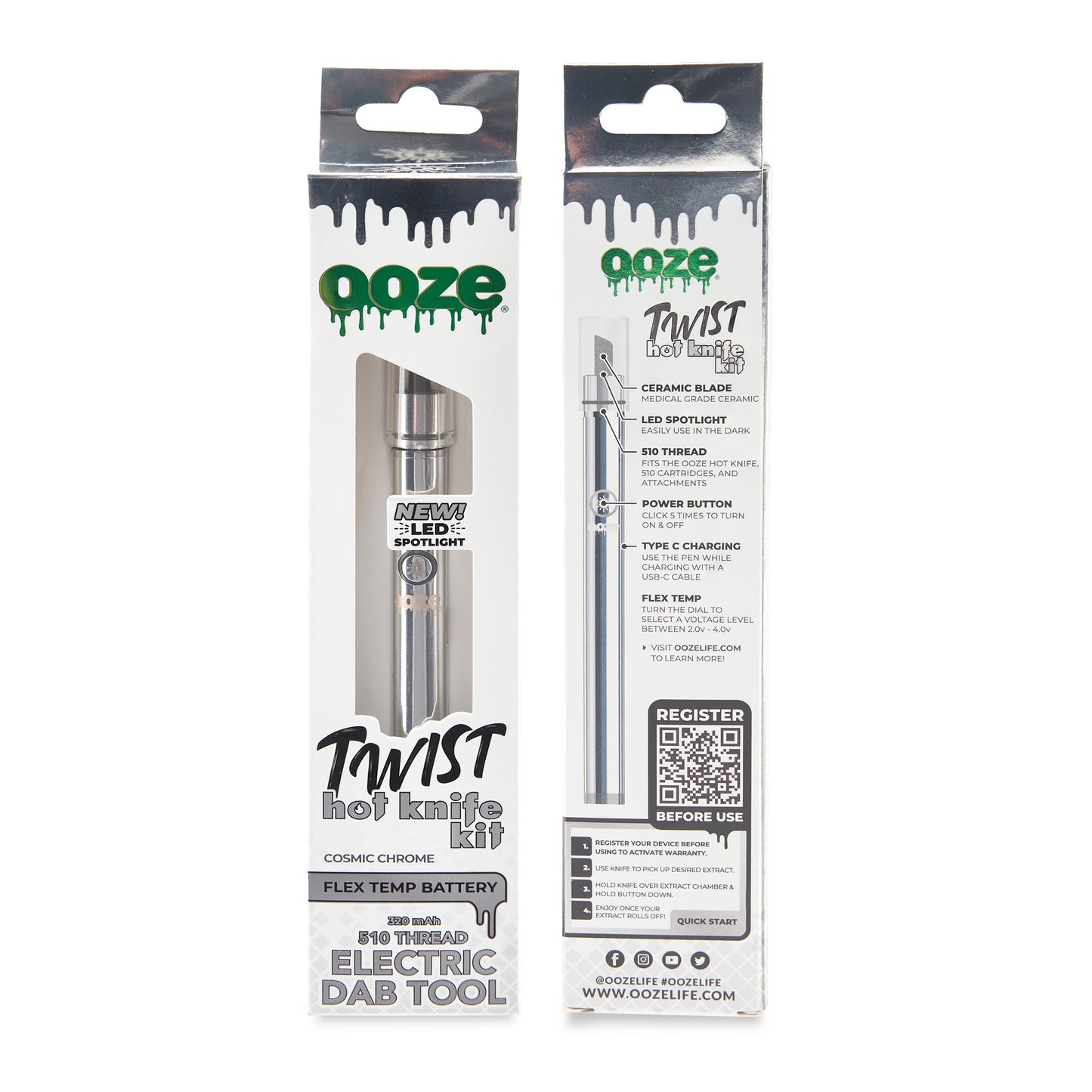 Description
Concentrates are notoriously sticky and hard to work with. Plus, they're expensive, so wasting even a tiny bit is super frustrating! That's why we created the Hot Knife attachment; a 510 attachment that is a ceramic tip that heats up, making sticky wax slide right off the end, into your banger, without all the mess and residue. The Twist Hot Knife kit is our Hot Knife attachment plus a battery for the power source.
How many times have you woken up in the middle of the night and needed a dab to drift back off to sleep? Or had to take the sesh outside at night where it's impossible to see without your phone light? We added an LED spotlight at the end the Twist Hot Knife to make those situations easier! It lights up whenever you're pressing the button on the battery.
The Twist Slim Pen 2.0 is the perfect companion for the Hot Knife. It looks seamless once it's screwed onto the top, and this battery has great battery life so it can go plenty of sessions without needing a charge. The voltage goes up to 4.0V, so it can cut through even super thick and hard concentrates like shatter. Press the button to heat up the tip, and replace the travel cap once you're finished using the Twist Hot Knife.
Features
KIT | The Twist Hot Knife kit includes an Ooze Twist Slim Pen 2.0 vape battery, a Hot Knife attachment, and a type-C charging cord. Everything you need for effortless dab handling!
LED SPOTLIGHT | The new version of the Twist Hot Knife has a light at the base of the ceramic tip. It lights up when the button is pressed, making dabbing in the dark easier.
CERAMIC TIP | The ceramic tip of the Hot Knife heats up quickly and is super smooth with a very thin edge. This makes it easy for wax to slide off the end cleanly, and can cut through hard substances easily. Handle the ceramic tip with care, and be sure to use the cap when not in use.
510 BATTERY | The Twist Slim Pen 2.0 is a 510 thread vape battery with flex temp, pulse wave technology, automatic shut-off, dual charging ports, auto draw, and is covered under the Ooze Warranty Program.
EASY TO CLEAN | The Twist Hot Knife is an easy kit to keep clean. Use a Res Wipe to wipe off the ceramic tip after each dab session, and clean the connection between the battery and attachment every once in a while for best results.

*USB Chargers must be used with Wall Plugs that are designed for USB Ports. Gaming devices, computers, and other electronics are not covered under warranty.